10 Ways to Use...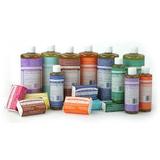 You're not alone if you don't know the wild and wonderful ways that you can use the Dr Bronner's Castile range. Here are some of our favourites:
Hand Soap - mix 1 part castile to 4 parts water and refill your soap dispenser. You can reduce the ratio up to 1:1 if desired.
Laundry Wash - Use 1/4 cup for top loading machines and 1/8 cup for front loaders. A dash of baking soda can help. This solution is delicate enough for silk and wool. Any scent is great!
Pet Wash - I have washed our retriever many times with the Peppermint version, and she ends up smelling so minty fresh! Wet the coat first and then massage the soap in with your hands. Can also be squirted directly into a bucket and water.
Baby Wash - Delicate enough for bubs, especially if using the Baby/Unscented variety. Add one or two drops to a wet face washer or directly into the bathwater.
Shampoo - Only a small amount needed for getting your locks clean (much less than regular shampoo!). Or you can use the Shikakai range - which is particularly for body and hair care. Lemongrass lime is divine.
Washing the dishes - dilute castile 1:10 with water (hand washing only) and add more as required
Mopping - 30ml in 4 litres of water. The Sal Suds product is also a specifically developed for cleaning needs.
Fruit and veggie wash - Baby/Unscented is best here, a drop or two is enough
Body Wash - Dilute at a ratio of 2:1 castile to water. You can also use the castile soap bars if you prefer.
Bubble Bath - Pop a squirt into the bath as the water is starting to run. Great way to relax without the chemical nasties.
FYI - Castile means that it is made from 100% plant oils. It's a true soap, not a detergent, that is completely biodegradable and planet friendly.
What do you use your castile soap for?
Just Health.